City Information
The City Commission
The Mayor & City Commission are the governing body of our City. Regularly scheduled Commission Meetings are held the second and fourth Tuesday of each month at 7:30 pm – 404 West Palm Drive, in the Commission Chambers. All members of the public are welcomed and encouraged to attend these Commission Meetings to get involved in your city government, and personally see its impact upon you as a resident. Anyone who wishes to have an item placed on the Agenda, should contact the City Clerk, Jennifer A. Evelyn at (305) 247-8221 the Wednesday preceding the Tuesday night Commission Meeting. Any legal matters concerning the City should be addressed to our city attorney REGINE MONESTIME, ESQ., PO Box 693323 Miami, FL 33269 (305) 790-7710 email: monestimeregine@gmail.com
Additionally you may request permission to speak during the "Citizen's Privilege" portion of any Commission Meeting.
Meeting Documents
mdocs-cat-7
No files found in this folder.
2019 Commission Meeting Schedule
There are no upcoming events.
Resources
Elder Abuse Prevention
Alcoholics Anonymous, Narcotics Anonymous and SMART Recovery
Disease of Addiction
Drug & Alcohol Abuse Programs
Rehabs.com
PUBLIC NOTICE
City Clerk
The City Clerk's office is the official record keeper of the City, the official custodian of the City Seal and is an appointed officer by Charter. The City Clerk reports to the City Commission and holds these additional responsibilities:* Recording of the minutes and all official actions of the City Commission
Attesting to and maintaining custody of all records of the City, including Agendas, Minutes, Ordinances, Resolutions, Contracts, Deeds, etc.
Publishing and distributing public notices as required by law.
Attending Bid Openings
Responding to public record requests, and lien searches.
Serving as the Municipal Supervisor of Elections, conducting all City elections in accordance with City, County and State laws.
Establishing and coordinating the City's records management program in compliance with state law.
Providing administrative and clerical support to the City Commission.
Administering oaths and providing full notarial services.
Code of Ordinances
Public Records Request
Basic Facts About The Fair Housing Act
Lobbying Information
Voting Regulations (305) 247-8221
City Elections are held on the fourth Tuesday in January of each even numbered year, between the hours of 7:00am and 7:00pm. Our next City's election will be held in January 2016. To vote in the City's election you must be registered to vote 30 days before the election, be 18 years of age, a United States citizen and a resident of Florida City. You may register to vote at City Hall during regular business hours. The City Clerk is the Supervisor of Elections and can answer any question you may have.
State of Florida Resources
State of Florida
Online Sunshine – Florida Legislature Website
State of Florida
Department of Health and Human Services
Statewide Records Search
Drivers License Website
Florida State Internet Statistics
Miami Dade County Resources
Miami-Dade County Govermment
Miami-Dade County Transit Info
Miami-Dade County Public Schools
Miami-Dade County Library System Ask a Librarian
Miami Dade County Fire Rescue Dept.
US 1 Express Lanes
Florida State Internet Statistics
City History
Pioneer Museum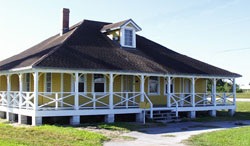 Its early history involved conflicts between Southern and Northern Settlers. The first settlers, originally from Topeka, Kansas has settled in Homestead but moved out into the wilderness area that became Florida City in 1910. Many southern families seeking homesteads followed. In 1913 the Model Land Company from Michigan purchased 22,000 acres. They advertised heavily in Detroit and attracted northerners to their "Garden of Eden". Detroiters named the area Detroit but apparently became dissatisfied with their purchases. Conflict developed with the Southern families and the Detroiters moved back north shortly thereafter. In 1914 the city was incorporated. The remaining families named it Florida City.
By 1922, Florida City had grown to a population of over 800. The city had a drug store, a hardware store, and a three story hotel. South of the town was the largest Ice Plant in the state and a lumber mill; however most of the towns economy came from farming. Florida City's limits were extended to Biscayne Bay in 1925. Because of its lack of development, the land owners successfully petitioned to have the city restored to its original boundaries. A hurricane in 1926 leveled several buildings and greatly damaged others. The area economy returned to agriculture.
Florida City Pavillion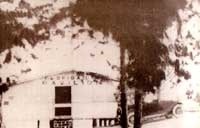 The Pavilion was constructed by the developers of Detroit, later Florida City, the Miami Land and Development Company, owned by the Tatum brothers. The Pavilion served as the main social venue for the early pioneers. Under the Pavilion was a swimming area. The bottom of the canal was covered with boards. Dancers were held upstairs. The company also constructed a recreation building at the mouth of the Detroit / Florida City Canal. The townspeople raised #1,000 in contributions for the construction of the building on Palm Drive which was used as a school and a church until it became town hall later.
The Becker House on the Florida City Canal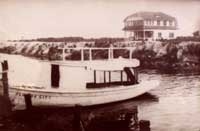 When the canal came all the way from Biscayne Bay to the Florida City Industrial Basin. The Industrial Basin was home to an ice plant, packing houses, and other businesses. The boat in the foreground was of a common design for use on the canal. The Becker House stood until it was set on fire by vandals and then torn down when Burger King was constructed.
A scene along the Florida City Canal which had carried cargo and passenger traffic from points north along the bay, inland to a point west of where US1 and Palm Drive (SW 344th Street) intersect, now. Portions of the canal are still visible, and reach west to US 1.
Royal Palm State Park Lodge
Sometime after its construction in 1916 for the Florida Federation of Women Clubs by J.F. Umphrey of Homestead. The Florida Federation of Women Clubs acquired 960 acres from Mrs. Henry M. Flagler and 960 acres from the State of Florida for its Royal Palm State Park. In 1921 the State gave them another 2,080 acres. The women operated the Royal Palm Lodge where lodging and meals were available, as a means of financing the upkeep.
They also grew Royal Palms for sale 156 of them ended up on Florida City's Palm Drive in 1922 and others in Homestead on Krome Avenue. After the Everglades National Park was established in 1947, the park service used the lodge as its headquarters after it moved out of the Redland District Chamber of Commerce building. Later the lodge was sold and moved into Homestead where it was used as a boarding house. It was destroyed by Hurricane Andrew in 1992.
The original Rock Castle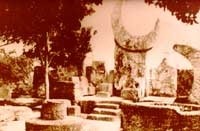 Southwest of Florida City (this from the Homestead Enterprise from Feb. 27th 1923 reported E. Leedskalnin a Californian has purchased an acre of the R.L. Moser homestead and is planning to erect a home soon. This newspaper item was the first reference to Ed Leedskalnin, the builder of Coral Castle. Little did anyone know what Ed had in mind for a house. According to Jean Taylor in her "Villages of South Dade" Ruben Moser brought home a 97lb Latvian immigrant who was seriously ill. Mrs. Moser nursed him back to health. He bought land from the Mosers where he quarried rock for his Coral Castle, southwest of Florida City.
His lost love, "Sweet Sixteen" in Latvia was his inspiration. In 1937 he moved his "Coral Castle" to its present location on US1 by himself and in secret. Coral Castle remains standing and continues to amaze visitors with the power of love, and what one man can create.
The two FEC Railway bungalows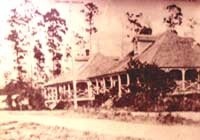 On N. Flagler in the early 1960's before one of them burned down and the second was moved to Florida City to house the Florida Pioneer Museum. They were constructed in 1904 for about $1,500 each. One was used for the station agent and the other for the track foreman.
The houses stood just northeast of the old Dixie Drug Store, perhaps 200′ northeast of the corner of Flagler Avenue and Krome Avenue. After the FEC ceased using them they were rented out to families. Flagler was called Railroad Avenue until the Woman's Club of Homestead lobbied to have the name changed to Flagler.
This photo is probably from a post card dating from the period between 1912 and 1920.
Historical Resources
State of Florida Historic Resources
More State Historic Resources
Bureau of Archaeological Research
Florida Smart
Florida Department of State Historic Resources
Historic Museum of South Florida
Florida History.org
Florida History Timeline
Dining & Lodging
Dining
Applebee's Neighborhood Grill & Bar
Burger King
Capri Restaurant
Denny's Restaurant
Domino's Pizza
Dunkin Donuts
Farmer's Market Restaurant
Golden Corral
Inka's Grill
Jimmy John's
Kentucky Fried Chicken
Krispy Kreme
Long John Silvers
Los Aztecas Restaurant
Los Potosinos Taqueria
Mcdonald's
Mutineer Restaurant
Panda Express
Rositas Restaurant
Sonny's Bar-B-Q
Starbucks
Subway
Taqueria Morelia
Texas Roadhouse
Top Taste
Villa Pizza
Waffle House
Wendy's
Jobs
Equal Employment Opportunities
The City of Florida City is an Equal Opportunity Employer and a Drug Free Workplace (EOE/DFWP) and does not discriminate on the basis of race, creed, color, ethnicity, national origin, religion, sex, sexual orientation, gender expression, age, physical or mental ability, veteran status, military obligations or marital status. Americans with Disabilities Act Inquiries concerning the Americans with Disabilities Act of 1990 for employment related concerns and requests for reasonable accommodation should be directed to the Human Resources Department at (305) 245-1861.
Employment Eligibility Verification
U.S. law requires companies to employ only individuals who may legally work in the United States – either U.S. citizens or foreign citizens who have the necessary authorization. The City of Florida City verifies the work eligibility of all new hires.
Title VI Program Plan
"No person in the United States shall, on the ground of race, color, or national origin, be excluded from participation in, or be denied the benefits of, or be subjected to discrimination under any program or activity receiving Federal financial assistance." (42 U.S.C. Section 2000d)
Equal Employment Opportunity/Title VI Coordinator
Cindy Lyle: (305) 242-8178
TITLE VI Information and Complaint Form
Veterans' Preference
In accordance with Section 55A-7 of the Florida Administrative Code, the City of Florida City will extend appointment and retention preference for certain eligible positions to any eligible veteran or spouse under the code. If you are claiming veterans preference, please be sure to complete the military section of the employment application and attach a copy of the DD214 form with your application. Preference cannot be given to applicants that do not submit the required documentation with employment application.
Employment Application Process
Applicants considered for employment must complete all pre-employment requirements established by the City of Florida City. Applicants must submit a completed City of Florida City application for employment. Applications must include the position title to be considered and will only be accepted when there are vacant positions posted. Resumes can be attached only with a completed application. Resumes submitted alone will not be considered. A new application must be submitted each time an applicant applies for a posted position. Employment applications must be mailed or delivered to the Human Resources Department. Please remember to sign the application before submitting.
Available Positions
PART-TIME (RELIEF) COMMUNICATIONS OFFICER (911 DISPATCHER)
FULL-TIME COMMUNICATIONS OFFICER (911 DISPATCHER)
CRA EXECUTIVE DIRECTOR
CERTIFIED RESERVE POLICE OFFICER
(**note all Police Department positions require Police Department application for consideration)
Application Submission
Submit completed City of Police Dept. applciation:
Human Resources Department
404 West Palm Drive Florida City, FL 33034
Stormwater
Determining the Risk
To identify a community's flood risk, FEMA conducts a Flood Insurance Study. The study includes statistical data for river flow, storm tides, hydrologic/hydraulic analyses, and rainfall and topographic surveys. FEMA uses this data to create the flood hazard maps that outline your community's different flood risk areas. Floodplains and areas subject to coastal storm surge are shown as high-risk areas or Special Flood Hazard Areas (SFHAs). Some parts of floodplains may experience frequent flooding while others are only affected by severe storms. However, areas directly outside of these high-risk areas may also find themselves at considerable risk. Understanding Your Area Changing weather patterns, erosion, and development can affect floodplain boundaries. FEMA is currently updating and modernizing the nations Flood Insurance Rate Maps. These digital flood hazard maps provide an official depiction of flood hazards for each community and for properties located within it. FEMA has published almost 100,000 individual Flood Insurance Rate Maps. See your map and learn how to read it so you can make informed decisions about protecting your property, both financially and structurally.
Stormwater Resources
FEMA Floodplain Map for Florida City, 2009
Managing Stormwater
Miami-Dade County Stormwater Utility
Miami-Dade County Stormwater Management
Tourism
Area / County Parks
Black Point Park
Homestead Bayfront Park
State & National Parks
Everglade's National Park
Biscayne National Underwater Park
John Pennekamp Coral Reef State Park
Traveler Information
Tropical Everglades Visitors Association
Homestead, Florida City Chamber of Commerce
Greater Miami Visitor & Convention Authority
Area Attractions
Coral Castle
Robert is Here
Everglades Alligator Farm
Homestead Motorsports Park
Homestead Baseball Stadium
ITB-RFP-RFQ
Invitations to Bid, Requests for Proposals, and Requests for Qualification
From time to time, the City of Florida City issues Invitations to Bid (ITB), Requests for Proposals (RFP), and Requests for Qualification (RFQ). These ITB's, RFP's, and RFQ's are typically advertised in either or both of the South Dade News Leader or the Miami Herald. Most offerings of this type are also posted online on Onviva Demand Star or other specialty advertising sites. They may also be posted on the websites of state or national associations to which the City belongs.
The links below are the current procurement offerings from the City of Florida City:
Invitations to Bid
mdocs-cat-16
No files found in this folder.
Requests for Proposal
No files found in this folder.
Requests for Qualification
mdocs-cat-18
No files found in this folder.
---